Dragon Beard Candy Master Johnny Chin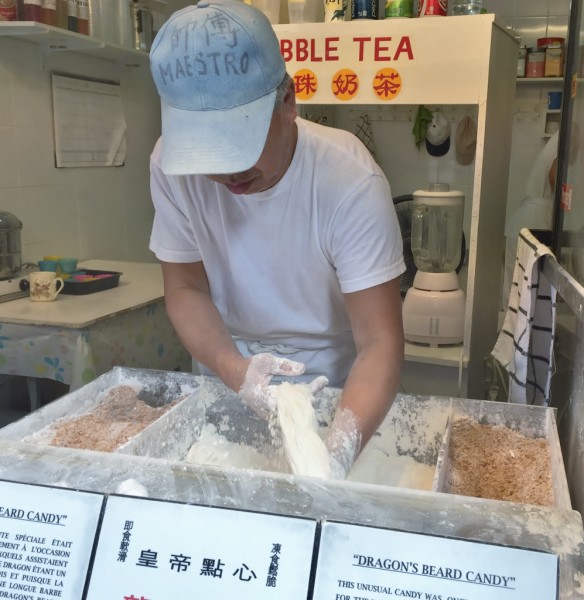 Johnny Chin, a Hong Kong born former accountant, is one of the most famous candy makers in Montreal. In fact, he is one of the most famous candy makers anywhere. People from every part of the world come to Montreal's Chinatown to see Johnny make dragon beard candy — a silky confection once eaten only by emperors — and learn the history of this rare candy from one of the last dragon beard masters.
The art of making dragon beard candy is believed to be about 2000 years old, dating back to the Han Dynasty in China. The process of making dragon beard candy is fascinating. A lump of hardened sugar is dunked in cornstarch then pulled and twisted in a figure 8 motion, doubling it 13 times, until there are 8,192 ultra-thin strands to fill with a surprise. In Johnny's recipe, the center is a chewy mixture of coconut, sesame seeds, ground peanuts, and chocolate. Every day of the week, visitors can find Johnny at his small booth performing his hypnotic candy making show and sharing the story of dragon beard candy.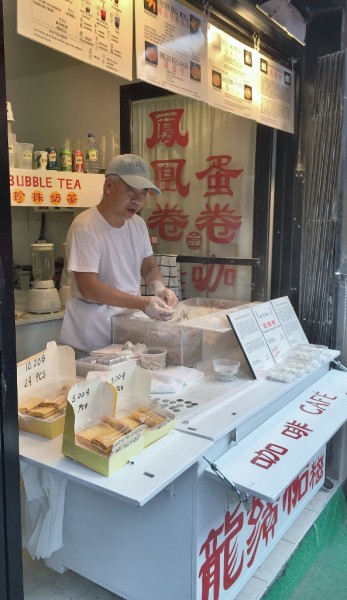 How did an accountant working as a controller for a large Montreal company become a dragon beard master? Why has he tirelessly worked in a stall in Chinatown making candy every day for 25 years? Johnny recently honored us by sharing with Candy Atlas the story of his journey to becoming a master of an ancient art.
Do you have strong memories of dragon beard candy from your childhood? It is true that dragon beard candy reminds my childhood. Ever since we were going to our primary and secondary schools, we always saw old men making this candy at the street corner near our schools.
How did you learn the craft of making the candy? To make the story short, the dragon candy making tradition is mostly from grandfather to father, and from father to son. The skill does not pass outside the family. But the cultural revolution in China made it so Chinese people could do nothing that resembled the old ways. After 2000 years, the art of making dragon beard candy almost died. By 1980, there were only very few candy masters left, fewer than 10.  So, in my case, I learned it from my brother Andy and my brother-in-law, David, who paid $5,000 Canadian in the early 1980s to a dragon beard candy master in Hong Kong to learn the trade.  Me, in the late 80s, I learned from Andy and David when I returned home to visit my family. I noticed that they were having so much fun travelling to Tokyo and Australia on candy making trips, in addition to their shopping mall and candy trade shows. I helped them out during my visits, while learning at the same time.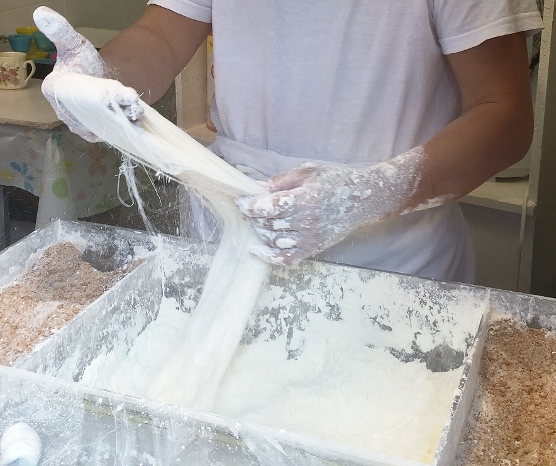 So, here you are, a controller at a large company in Montreal who has now learned to make this beautiful traditional Chinese candy. When did you decide to leave the corporate world and start Dragon Beard Candy? On one good weekend in the summer of 1990, a good friend of mine of Greek origin by the name of Costas helped me set up a table at the corner of the street in Chinatown.  For the first time in my life, on the street with no permit,  I started making and selling dragon beard candy to test the market for fun.  It was absolutely overwhelming. People all came to watch me talk and demonstrate. When I finished the show, they all rushed with money in their hands to get a piece. I had a crowd of a good 20 to 50.  I had fun doing the show with Costas, this white hairy guy, being the cashier. There was no stress. I could talk to people. By the end of the day, counting the dollar bills, nickels, and dimes, I could easily make his and my weekly pay in two days. Also, making dragon beard candy would be a way to preserve a part of traditional Chinese culture. This is it. My business mind started working.
And, now, you have your son working by your side. What is his name? His name is Kar Ming. He is a good NBA fan. He is doing his 2nd year pre-u this September.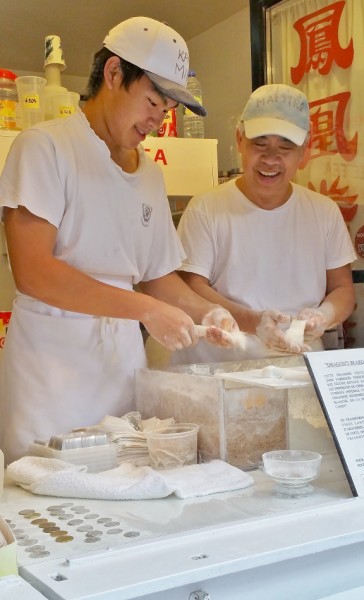 Do you foresee Kar Ming taking over the business one day? Are other members of your family also involved in the business? I do foresee my son taking over the business and expanding it if possible. All my family is involved in this business — my wife, Pauline, as well as my daughter Kar Yan. There are still my brother and brother-in-law in Hong Kong.
Do you have plans to modify your recipe or develop additional flavors? No, people seem to enjoy so much of the original recipe. The fact is they taste it once, they go crazy. A good crazy. They come back and want more. They talk about it and they tell their friends about this candy experience.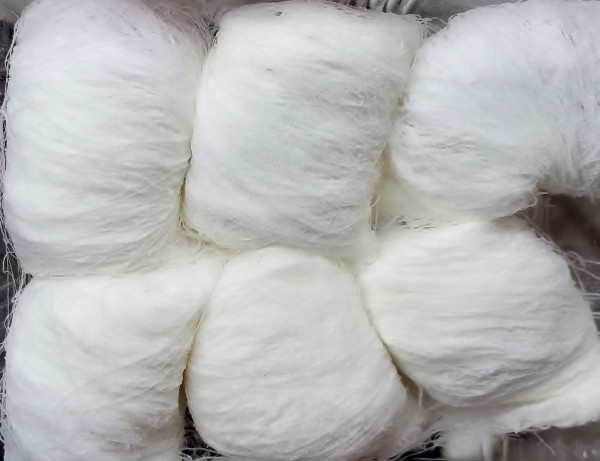 While visiting your stand, we heard you speak, in different languages, to a number of people who came to watch you and try dragon beard candy. It appears that you are known all over the world. I can explain the candy making process in Cantonese, English, French, Spanish and Italian. The first three are my everyday working languages.  Over the years, I travelled to Spanish speaking countries over 30 times for my winter vacation. I am in my 4th year of Italian courses at Instituto Italiano Di Cultura in Montreal.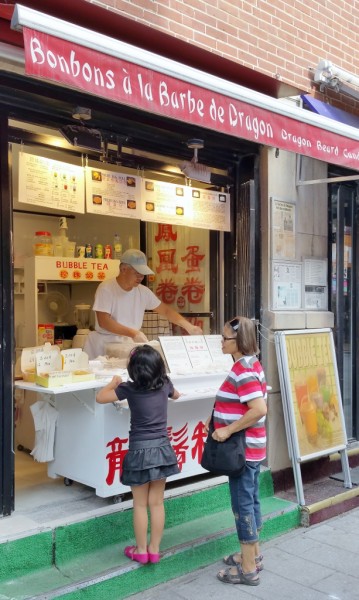 When people go home and tell their friends about dragon beard candy, they don't have any to share because it is best eaten within minutes of your making it. Could it be frozen and thawed? It can be kept in the fridge. A couple of hours before serving, you take it out and bring it to room temperature. Me, I don't have too much knowledge about how packaging and preserving could increase the lifetime and freshness of the candy. Maybe one day someone will come to me with an idea and the technology.
How long have you been at your current location? Do you plan on expanding or opening additional locations? I've been here 15 years. I don't plan to expand but maybe my son will. My dream for the candy trade is that one day I will find someone who could arrange it with overseas storekeepers to allow me to perform for short term, say 2 months, and then move to another city. I could split the profit with him.
If we had only 48 hours in Montreal, what should we do? Montreal is a cosmopolitan city with all races of people from all over the world. I would recommend that you taste food and go to places that symbolize these different cultures. Some of those are a must coming to Montreal: Schwartz's smoked meat, Fairmount Bagel, Portuguese grilled chicken, of course Dragon Beard Candy, Jean-Talon Fruit Market, Atwater Market, an open-air cafe on Saint-Denis Street and Crescent Street, Gay Village.
When you are in Montreal, visit Johnny at 52 Rue de la Gauchetière O, Montréal, QC H2Z.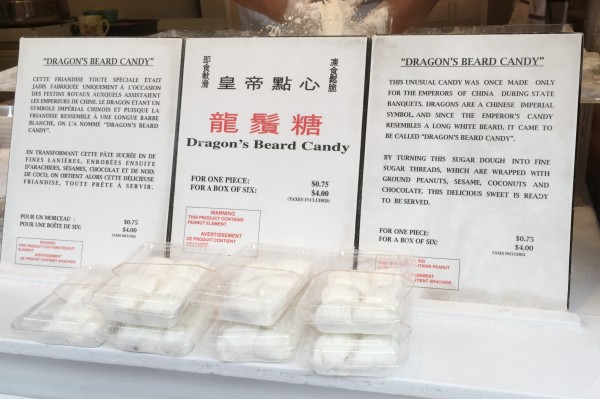 Share: