Jack Epstein's Got Chocolate Covered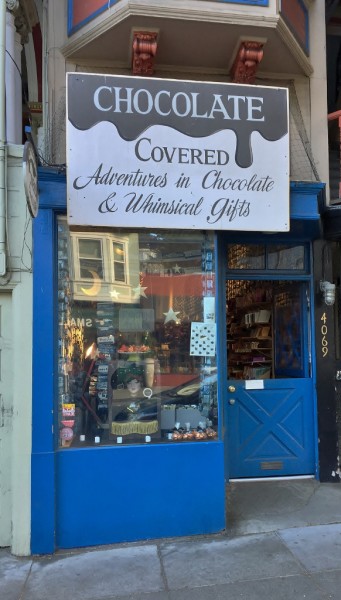 If you hadn't noticed the name of the shop and just looked in the window, Jack Epstein's boutique could be mistaken for a photographer's gallery at first glance. The store's walls are lined with thousands of intriguing cyanotype boxes printed with iconic San Francisco landmarks and street signs and the faces of famous folks. But the name of the store is a dead giveaway: Chocolate Covered. Imbued with the creative personality of its owner, Chocolate Covered brims with a selection of chocolate bars so expansive you will be sure to find something you've never had before.
Tucked into the quaint Noe Valley neighborhood of San Francisco, Chocolate Covered is one of the district's business success stories. The store was started in a small basement by Jack in 1994 and has since grown into a destination for local gastronomes and international chocolate tourists alike. Candy Atlas had the wonderful opportunity to talk to Jack about his chocolate covered life.
How many chocolate bars are in your shop? There are more than 800 chocolate bars in the shop.
How many different makers are represented? We have over 100 different companies from, at last count, 18 different countries. But I also have samples behind my counter of stuff from Russia, Scotland, Australia, New Zealand. People send me samples from all over the world.
You have a reputation as one of the country's preeminent chocolate retailers. We read somewhere that you have the largest selection of chocolate bars in San Francisco. We don't proclaim it ourselves, but no one's come into the store and said they've seen a larger quality collection. There are people who have wonderful things that I don't have. There is so much out there, I by no means have it all. But I do believe I have more in one place than anyone else. Anybody with the money and the time could certainly duplicate what I have but it will take them a little effort.
You have an open invitation to micro-companies and small chocolatiers to show you what they've got. How do you decide whose products make it on your shelf? It has to be as good or better than the things I already have. Or, it has to be in a certain category that I don't have anything in – it's a niche that is not being covered and there's room for it. But, at some point, there's redundancy and you can't take a product. There are only so many 70% Madagascar bars or 70% single origin this or that you can carry. We try to find as many different niches as we can cover.
Speaking of 70% Madagascar bars, what are the most popular kinds of chocolate bars you sell? In my store, we sell more dark chocolate than milk or white but we're not snobs. We sell white chocolate, we sell milk chocolate. In addition to the 800 bars, I also have a couple hundred confections — truffles, toffees, caramels, specialty items. Our focus is chocolate bars but we do have a fairly complete chocolate experience. We just want to have a great, quality collection and let people figure it out, try stuff. We have customers for everything. We also sell a lot of bars from our Bay Area chocolatiers.
We notice that you have a lot of American chocolatiers and, specifically, San Francisco-area chocolate makers. Do you feel you have a special responsibility to the local chocolatiers? Obviously, on a social level, it is nice to buy locally. But it's also pure business. People want to, when they are visiting, buy stuff from the local area. We have in the store 13, 15 different people between San Francisco and Oakland, Bay Area people, who make chocolate. When my customers come in wanting to give a gift to their friends on the East Coast or out of the country, they often ask, 'What are the best local things that you have?' On that level, I have to have a lot of local stuff.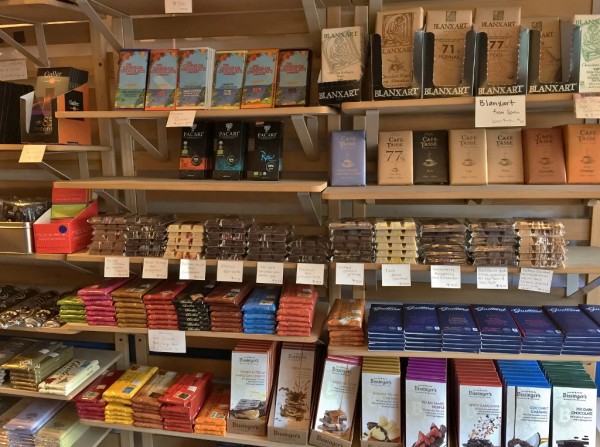 I am very happy to support the American craft chocolate movement and to support the world's craft chocolate movement. Right now I have stuff from Lithuania, Hungary, Iceland. I've had stuff from Denmark. I have samples from half a dozen other countries.  I just had a visitor from Estonia. He said that he's been studying with some of the people here and he's going back to start doing craft chocolate in Estonia. It's everywhere in the world. Everything is still exploding. This world is still expanding out in a big bang kind of way.
Do you have any thoughts about why, as you say so well, the craft chocolate world is still expanding out in a big bang kind of way? A lot of it has to do with the chocolate makers knowing more than ever before about quality beans and the importance of the roasting process and the consumers being more engaged — Where did it come from? Why does it taste this way? A big reason that happened is Scharffen Berger. In 1997, Scharffen Berger emerged as America's first bean-to-bar chocolate maker in 50 years. They began labeling their bars with the percentage of cacao and that was ground zero for the explosion. A few years later, Scharffen Berger is acquired by Hershey for a lot of money. This was here in the Bay Area. Next, people fleeing other professions like tech started their second careers making chocolate. Now we have the younger generation, people in their mid-20s and 30s, and they got into chocolate making right away, it's what they've always wanted to do. It's a worldwide phenomenon.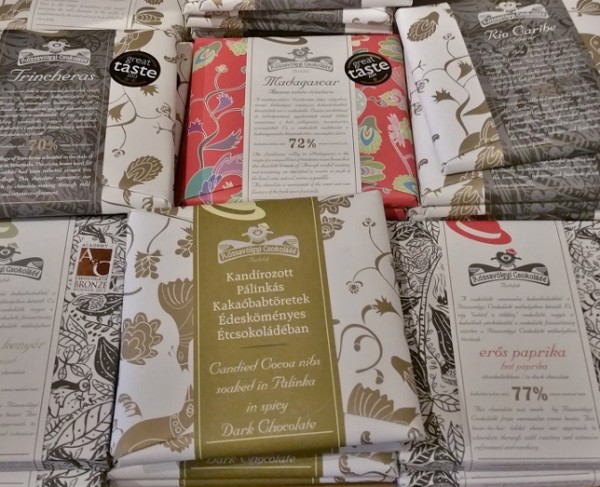 What do you think makes a chocolate bar fine chocolate? Is it the ingredients? The technique? It's everything — the quality of the beans and the competency of the chocolate makers and their dedication to putting out what they think is the best. We have some chocolate makers who produce incredibly wonderful stuff but they put out so little because they're such sticklers for quality, and, when things don't work out, they just trash the batch. Start all over. There are people like that and there are people who put out their first try and hope that they are ready to wholesale you. But for all chocolate makers, I think one of the hardest things is the consistent supply of quality beans. From season to season, from plantation to plantation, from harvest to harvest, there's going to be variations and they have to be very careful about the quality of the beans they start with. I think it always starts with the bean.
Do you think about making your own chocolate or chocolate products? No. Not at all. In the past, I thought about being someone who dips stuff, not being a chocolate maker. But I don't really need to do that. There's no reason to. As you can see, making my tins is more than sufficient for me to be hand-making the gift items that go along with the store. I make several thousand boxes a year, and that's enough for me to market the chocolate and make the boxes.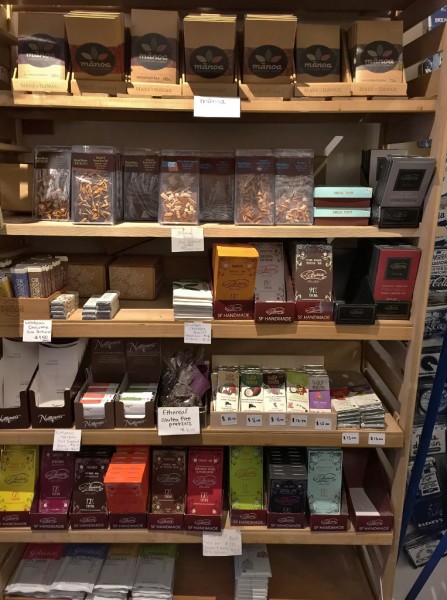 In relation to the customer, what is your role as a chocolate retailer? My job is to provide the best collection that I can. We guarantee everything here is of a good quality and, subjectively, fairly priced. When people come in, we're about giving them the best value for what they want to spend. Trying to establish the taste, establish the budget, and see what we can do for you. The idea is to maximize the experience for everyone, not necessarily maximizing the dollar amount of the purchase. It's a fun product to sell and it makes people happy.
On the other side, you have the chocolate makers. How do you see your relationship as a retailer in that connection? It's a synergistic thing. I started in 1994. The American craft boom started in 97 with Scharffen Berger kicking it off. They came in and they sold me. And the people from Theo walked in my store and they sold me. And the people from Tcho walked in. Every new person came around, and I was open to them. I have been supporting them but their existence has made my business what it is. When I started 20 years ago, I couldn't have put the store together the way I have today. Most of it didn't exist then. I'd say half my store is people who weren't in business 10 years ago, and a quarter of my store is people who weren't in business 5 years ago. It's a really fun business with really nice people and it's very nice to be in the middle.
Why did you decide to become a chocolate retailer? I started in manufacturing clothing and I did that for 15 years, and that got old. Then we started retailing other people's clothing, and we had a couple of stores here in San Francisco. Although I made a living, with the way the cost of living was rising, I didn't see what I was making from those two businesses taking me into the future here. I thought about what else to do. Since retail is pretty much what I knew, I was walking down the street in the neighborhood where I live and I saw a basement store for rent. I decided I would take it and figure something out. Although the basement isn't a great place to start and it wasn't the very center of the neighborhood, it was affordable. While I was thinking of what to do with the basement, my partner and I had to leave the neighborhood twice to buy chocolates for her stepmother, who was in her mid-70s and loved chocolate, for her birthday and Valentine's Day. So, I felt that if I was leaving the neighborhood to buy chocolate as a gift other people were, too. There was a niche for a chocolate store here. I thought I would try one. Then, everything was just evolution. I focused on chocolate bars from the beginning because that's what I like and their shelf life. There weren't really that many. But, then, the whole world started making gourmet chocolate bars and I was in the right position to accept them.
With respect to Chocolate Covered, what has been your greatest challenge and what has been your greatest accomplishment? Surviving 21 years is the accomplishment! I started in a small basement store with a few resources. I was working my other business full time as well. It was a ridiculous amount of hours. But, when I started I was well aware that I would not have a destination store right away. Thankfully, I moved out of the basement after two-and-a-half years to street level. It took closer to six or seven years before, as I say, I came to work expecting to do business instead of hoping to do business. The world of chocolate was still evolving, and, until then, it wasn't to a point where there was enough of a center of gravity to really draw enough people to make it a business where I could hire an employee to help. After about seven years, it really became more of a full-time business, and we let go of one of our clothing stores. We still have one of our clothing stores and it still sells on this street. We actually switched places 10 years ago. My partner, Marilyn, suggested that we switch places because the clothing was in a 600 square foot store one block away and I was squeezed into the 200 square foot store. That's why I'm in this store with the high ceilings and why I was able to put 5000 decorative boxes that we make on the walls.
We are intrigued by the boxes lining your walls. Tell us about them. I design and make the boxes using a photographic process called cyanotype. It's a process that dates back to 1842. It is something that if you choose the image right and I execute it decently, people will think it is one of the best gifts they've ever had. It is just so personal. I have 5000 images for sale, and many of them are meaningful to people. But the custom option is what's wonderful. You can have anything from family photos to business logos done in quantities from 1 on up for a mere setup fee of just $10. You can take them empty or we can help you fill them to whatever taste and budget guidelines. I've been making them for 18 or 19 years, and people come back and tell me all the time, this person laughed or this person cried. Depending on the image, you can go for the funny bone or the heartstrings. Although I don't  do them for free, they're far from expensive, and the value, when the image is right and the contents are right is many fold. And, it's a great combination. What's more basic than a box of chocolate? And, the box is wonderful and the chocolate is wonderful.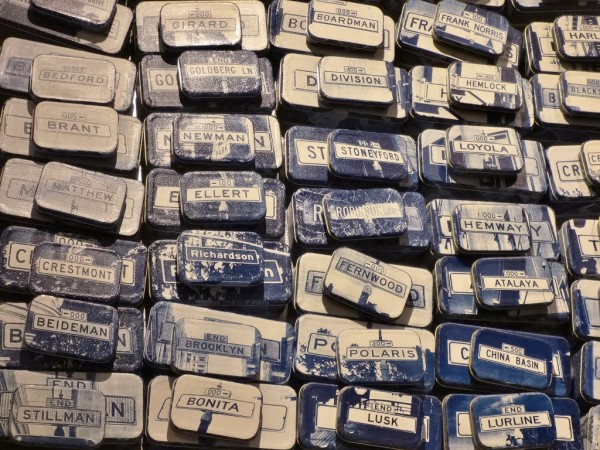 It doesn't look like you have an online store. Is one coming? We don't do a web business, but we are always happy to accommodate anybody who calls us up and can ask for what they want. I have too much choice to put on the web, and I don't buy things in huge quantities.
Say you're going on a trip but you only have room in your carry-on for five chocolate bars. What's coming with you? This is a very hard question but I do have five bars that I have taken on various trips.
One is a dark milk chocolate with high cocoa content. Milk chocolate but it has less sugar. It is a company called Slitti  from Italy. It's a wonderful bar. It's 62%. I love that bar. It's like eating a chocolate milkshake. The more you chew it, the creamier and chocolaty-er it gets. The idea behind dark chocolate, which is what most craft chocolatiers do these days, is less sweet but still creamy.
And Poco Dolce. A local person. They do this olive oil and salt bar, and that's always a fun bar.
Pralus from France has an 80% bar the Fortissima. I quite like that.
Blanxart from Spain has a 72% organic bar that is also very fudgy, very chocolatey.
Another Italian company, Venchi has an 85% dark.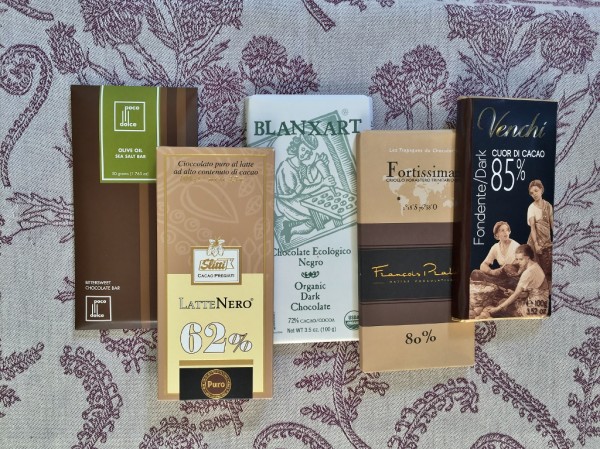 These are just five bars, there are other bars, stuff with inclusions, that I would be happy to have on any trip. There are so many more, it is hard to limit it.
If we have only 48 hours in San Francisco, what should we do? If it's about chocolate, you should visit Dandelion Chocolate and see the small, mini Chocolate factory on Valencia Street. You can visit Charles Chocolates – he has the glass kitchen you can look into. He's in the Mission on Florida Street. Everybody will tell you to go to the Ferry Building. You will see Michael Reschutti down there.
During my very little time off, I like to go around to certain bakeries and get a little treat or certain pizza places or falafel places and then take walks by the ocean – Ocean Beach, Crissy Field, Lands End, Fort Funston. And, for a little chocolate ice cream, there's a place at 5th and Clement called Toy Boat that sells San Francisco's local ice cream, Double Rainbow. You can always finish the day off with a Double Rainbow hot fudge sundae. Up the street you can get some great char siu bao. Yeah, falafel balls, pork buns, pizza, ice cream. That's basically my day off.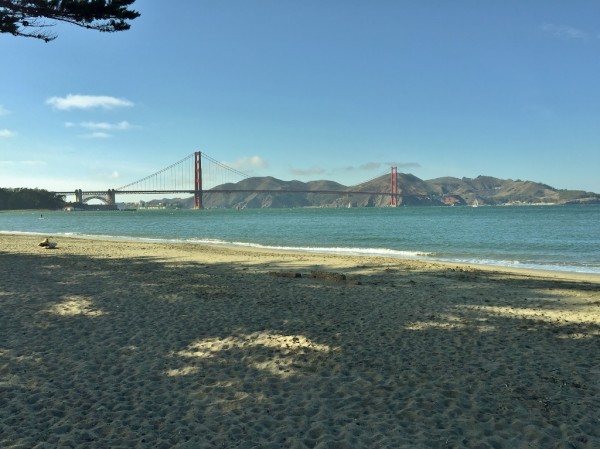 Chocolate Covered is located at 4069 24th Street, San Francisco, California. 415-641-8123 Visit them online here.
Share: